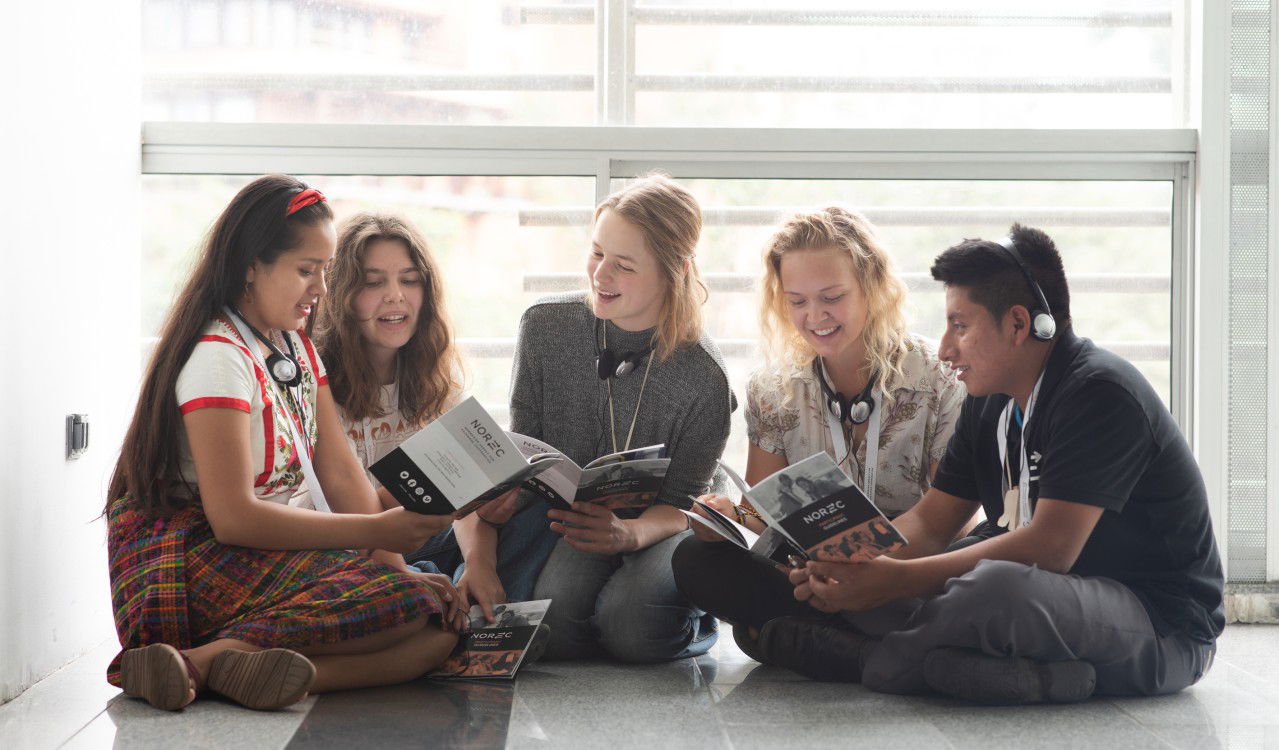 This is how we make change
Norec devoted several years to developing a model for the exchange of employees in development partnerships. From north to south, south to north and south to south, the mutual global exchange of workers strengthens organisations and their ability to influence sustainable development in their local communities. The exchanges take place in partnerships between institutions, organisations and companies. The mutual exchange of employees helps to develop active citizens and increase awareness of sustainable development. This in turn stimulates knowledge sharing and learning across national borders and gives organisations and past participants access to regional and international networks. A mutual partnership is based on equality, collaboration and joint responsibility.
Norec's model, which is based on mutual and equal partnerships, supports the UN global sustainable development goals, the implementation of which all nations, civil society and private companies alike are expected to contribute (2030 Agenda). The problems that Norec wants to help to solve lie at the core of the sustainability goals, namely to eradicate extreme poverty, slow down climate change, combat discrimination and eliminate social inequality. The Norec model preserves the main principle of inclusion of marginalised groups ("leave no one behind"). This principle takes into account the fact that every person has innate value and that the sustainability goals will be achieved in all countries and all segments of society.
Norec is a government resource centre for exchange that:
administers grants to organisations, institutions and companies in Norway and in Norway's partner countries
facilitates exchange projects of high quality
ensures the sharing of experience and learning between organisations through partnerships
encourages the sharing of knowledge and experiences when returning home after the exchange
promotes the participation and influence of the young working population.
Experiences from exchanges involving young people
Norec uses exchanges as a tool to include young people in development issues and sustainable development. The exchange of young professionals increases their awareness of global challenges and the Norec model involves professions that normally don't work with development issues.
Norec's programme increases understanding of different perspectives and improves communication between organisations, entities and individuals. What makes Norec unique is the personal and relational aspect of the exchange. Participants in Norec's exchange programme state that their experiences from the exchange underlie their decisions over several years after returning home. They become active members of the community and participate in societal development in both informal and formal contexts, in civil society and in their own professional sectors.
Studies have shown that participants in Norec's exchange programme become aware of their own prejudices, and gain a sense of humbleness and respect towards other cultures. The exchanges expose participants to a different lifestyle and culture. This arouses a curiosity about the unknown, which eventually leads to participants acquiring an appreciation of new and different perspectives. They are forced to experience new conditions and surroundings, which teaches them to see solutions and possibilities, even when immersed in the unknown.
At Norec, our experience has been that organisations and entities that have participated in exchanges over many years and have developed good partnerships have achieved changes on the organisational level. Over time, exchanges and mutual learning have led to the development of new ideas and methods. For some of these organisations, this mutual learning has resulted in innovative solutions, successful campaigns and new products.
Capacity building in organisations
To ensure a successful exchange, the organisations must jointly establish what they can learn from each other. Together they define the goals of the exchange. These should be joint goals for all organisations, entities or individual ones established by each organisation.
Training and guidance from Norec provide grant recipients with tools that enable them to plan exchanges that entail joint responsibility for recruitment processes, to develop a programme for the introduction, preparation and reception of participants and ensure that they receive proper follow- up throughout the exchange period. During the training, Norec addresses challenges and opportunities for learning and how to facilitate intercultural communication and dialogue with participants and in partnership.
The participants in the exchanges are assigned tasks that provide them with new skills and knowledge, which they then take back to their own organisation. When organisations succeed in including and retaining participants who have been on an exchange, the new skills and knowledge acquired yield increased and improved capacity development in the form of effectiveness, planning and delivery within the organisation. New knowledge, innovative methods and new skills strengthen the organisations, enabling them to provide better results and services. This in turn strengthens the organisations in their work to influence and contribute to societal development.
Prerequisites for achieving good results
Organisations must select qualified employees for the exchanges who are able to teach others their own skills and acquire new skills. The participants' competencies and the needs of the organisations must be harmonised. Participants are expected to communicate effectively and clearly and should be assigned relevant and meaningful tasks. It is important that participants receive help in settling into the workplace, though it is important that they feel comfortable and enjoy a meaningful social life after work. A mentor or past participant can serve as an effective means of support for participants in navigating in and understanding a new culture and surroundings.
Open and constructive dialogue is essential for the organisations in the partnership to successfully ensure that employees on exchange and returnees thrive and learn. It is important to Norec that organisations awarded an exchange grant assume ownership for the goals established, and that these are based on local preferences and needs. To ensure successful learning on the organisational level, several participants must continue to be involved and actively contribute to the organisation in the home country after returning from the exchange.