Learned more about trauma during six months in South Africa than in an entire career in Norway
On a six-month exchange to South Africa, Norwegian nurses say they gained more experience of serious trauma than they would have during an entire career in Norway.
"I'm pretty sure that I've worked with more severe trauma during those six months than I ever would experience if I'd worked in Accident and Emergency (A&E) at a Norwegian hospital right up to retirement," says emergency nurse Hanne Lindrup Fosse (32). Together with her colleague, Lene Eriksen (33), she spent six months on exchange in South Africa on a project between Haukeland University Hospital and Sefako Makghato Health Sciences University/Dr. George Mukhari Academic Hospital (DGMAH).
During their exchange, they spent time working in three different locations; in A&E at DGMAH, on a ward for trauma patients and also in the ambulance service.
Hanne Lindrup Fosse lost count of the number of cases she and Lene Eriksen worked on while they were in South Africa. Lene Eriksen exemplifies it as follows:
"One day, we only had one gunshot wound in a whole working day. Everybody was talking about how it was an unusually quiet day. Normally, the hospital would have perhaps five to ten severe cases," she says.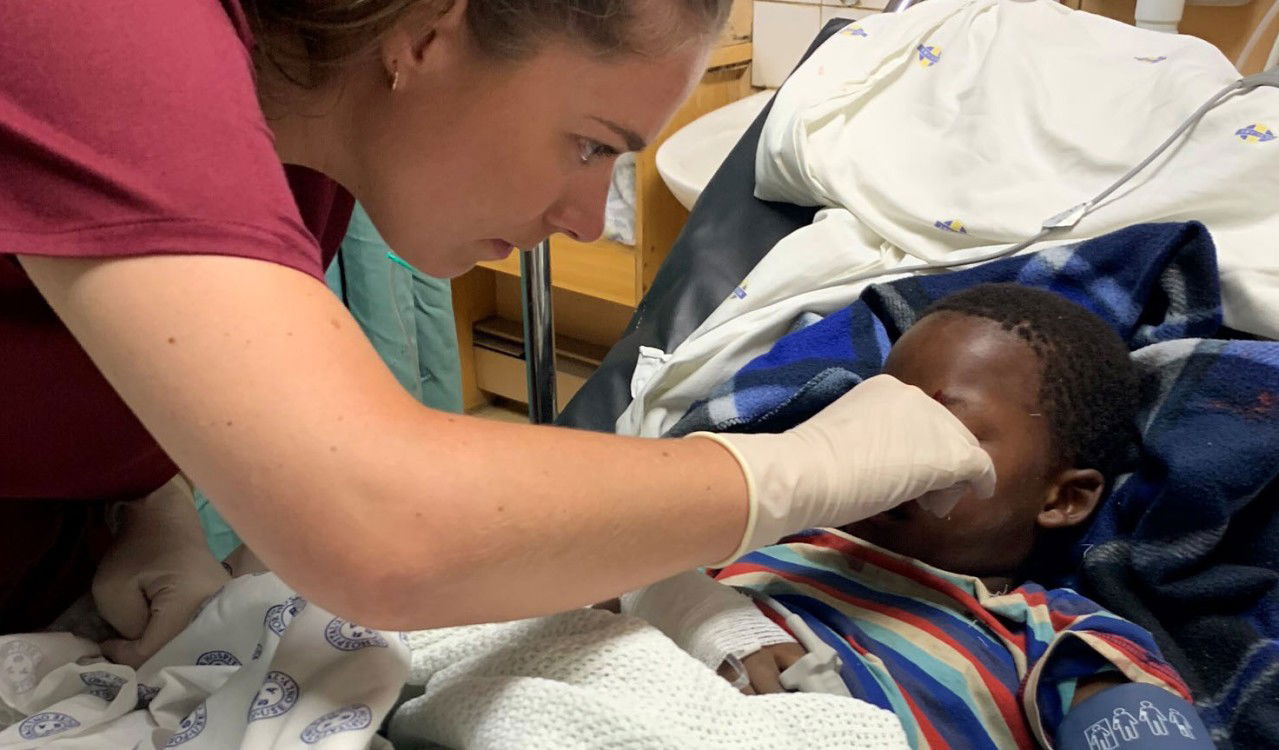 Experiential Learning
The trauma exchange between Haukeland University Hospital and Sefako Makghato Health Sciences University/Dr. George Mukhari Academic Hospital has taken place over three exchange periods, and is financed by Norec (the Norwegian Agency for Exchange Cooperation).
Normally, the two emergency nurses work at Haukeland University Hospital, both in A&E and on short-stay wards.
"In South Africa, the number of severe incidents is so much higher, and the cases are so much more severe than those we experience in Norway. The patients who come to hospital in South Africa have very severe injuries. In many ways, it is much more brutal, and the injuries we see are more serious," says Hanne Lindrup Fosse.
"We don't have that volume of training when we work at Haukeland. And high-volume training is exactly what emergency health personnel need. There's plenty of literature, but you need to work with it in person, you need to see and experience it to learn how to react better," Fosse says.
Treated injuries that are rare in Norway
Despite both nurses having plenty of experience on a Norwegian scale, the impressions they gained in South Africa were vastly different from working life at home.
"We treated a high number of injuries caused by violent assault, a lot of stab wounds, both with knives and other objects, gunshot wounds and burns. And we gained experience with injuries from traffic accidents that we are not used to seeing in Norway," explains Lene Eriksen.
In a country where the speed limit in many places is between 120 and 140 km/hour, combined with the fact that safety belts and driving under the influence are less regulated, road traffic injuries can be extensive.
And it is this variation in injuries and their severity that has prompted a cooperation between Haukeland University Hospital and the hospitals in South Africa.
"Fortunately, we have much fewer serious incidents in Norway. But the health personnel who specialize in trauma care need training so they can provide the best possible care. That practical experience is invaluable; it's so much more impactful than practicing skills theoretically," says Head of Department for International Collaboration at Haukeland University Hospital, Jon Wigum Dahl.
Norec project inspires spin-off funding
He points out that the training and experience gained by health personnel on exchange in South Africa would not be possible to achieve without such exchanges.
"They get a volume of training that we benefit greatly from. And when the nurses and doctors come back to Haukeland, they share the knowledge they have gained," he says.
Over the years, Haukeland has had a number of projects abroad, funded both by Norec and by other means. More than 100 employees from Haukeland have gone on exchange on projects funded by Norec over the past 20 years.
Jon Wigum Dahl adds that the hospital also finances several types of exchanges themselves, in a number of fields. In many of these, the cooperation started with a Norec project.
"For example, we would never have gotten started with the trauma project between Haukeland and South Africa without Norec. And we can see that this has a spin-off effect. We find funding from other bodies, allowing us to extend our exchanges. The mutual benefits gained are essential in these projects. A long-term partnership between different fields of health care is so mutually beneficial, and once cooperation has been initiated, it can only grow. Without Norec, this would not have been possible," says Jon Wigum Dahl.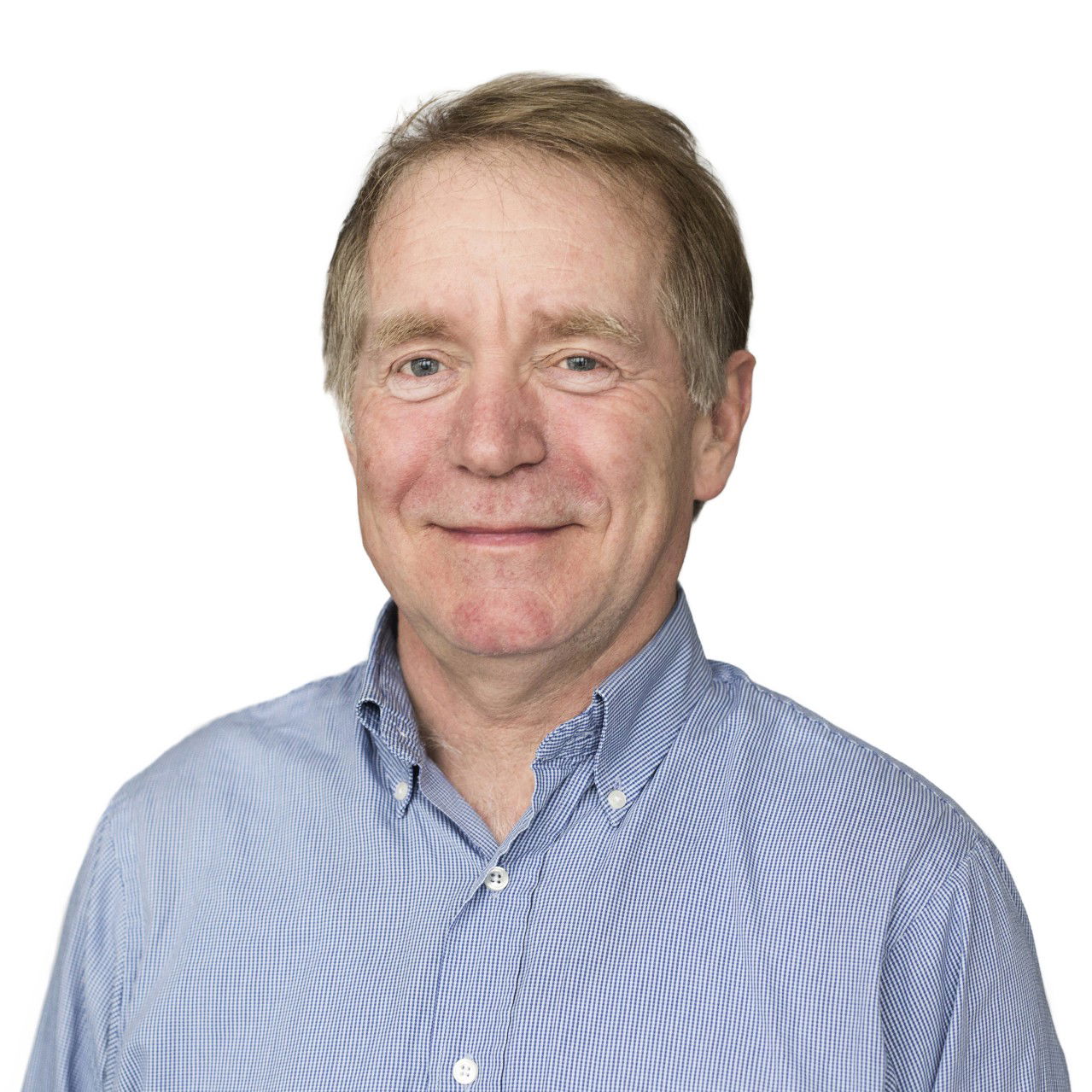 Introduction to new equipment
Thanks to the cooperation with Haukeland University Hospital and Norec, DGMAH in South Africa has received money to invest in equipment, improving patient care and making the working day easier.
"We have purchased a flexible bronchoscopy, allowing the doctors to immediately check what may be obstructing a patient's breathing. Before, we had to borrow a machine from another department, so having our own machine in A&E has been a great help," explains Colisiwe Dephney Ribombo.
After her stay in Norway, the hospital also procured pelvic binders, a support bandage used to stabilise patients suffering from a hip fracture.
"We used to use a sheet that we knotted for support. But now we have equipment to stabilise the patient in this situation. The hospital has also purchased a machine that performs heart compressions while a patient is being moved. This is a great help if you have to move a seriously injured patient from one place to another while still performing compressions," she says.
The exchange in this instance involves health personnel from South Africa spending time in Norway, while Norwegian nurses are in South Africa. Colisiwe Dephney Ribombo explains how, by sharing knowledge with colleagues, this impacts the whole organisation.
"The Norwegian health personnel learn a lot during their stay in South Africa. And we learn a lot from teaching them how we do things here. This type of partnership changes their attitudes and this in turn changes our own attitudes. Overall, this results in changes that improve the quality of treatment for our patients," she concludes.
More fully prepared as nurses
Norwegian emergency nurses Hanne Lindrup Fosse and Lene Eriksen had just managed to complete their exchange before the COVID-19 pandemic halted all physical exchanges in March 2020. They are in no doubt that their six months in South Africa changed them now that they are back in their jobs at Haukeland University Hospital.
"I wouldn't say that I've seen it all. But I've seen a lot. And the more you see, the more experience you get. As a nurse, I am calmer and more composed when patients come in with serious injuries, and it's important to keep a cool head at work," says Hanne Lindrup Fosse.
Her colleague, Lene Eriksen, agrees.
"In some way, I'm more prepared now as an emergency nurse. When you work in A&E and a patient comes in with a very severe injury, it can often look really bad. But when you have experience, you know that you can work on the injuries without it getting to you. We've learned more about what happens to the body in the event of a trauma, what's important, how long time we have to take action, and we've seen that you can succeed even when it seems impossible," says Lene Eriksen.
Both nurses also agree that these types of exchange are highly beneficial for Haukeland as an organisation.
"We are a huge organisation, so there's a limit to how much knowledge we can share, as the project has only had three rounds so far. But the more people who go on exchange, the more of us there will be to share what we have learned. I'm confident that this is an advantage for Haukeland, and we share our new knowledge as much as we can," concludes Hanne Lindrup Fosse.
Norwegian nurses get high-volume training in trauma
Patients in South Africa benefit from improved health services
Lack of communication and organisation
"The biggest difference between our hospital in South Africa and Haukeland University Hospital is communication and the method of organisation," explains intensive care nurse Colisiwe Dephney Ribombo.
The 38-year-old nurse has to juggle between her shifts at the trauma unit at the hospital in Pretoria and looking after her 15-year-old twin boys.
In 2018, she spent six months on exchange at Haukeland University Hospital in Bergen, financed by Norec. While there, she gained in-depth insight into how the Norwegian health services are organised.
"When I was at Haukeland, I worked in A&E, the emergency ward, the short-term ward and in triage, in diagnostic wards 1 and 2, the unit for overdose and intoxication, the trauma centre and the recovery unit. I also spent some time at Voss hospital and with the ambulance service. It was very educational," says Colisiwe Dephney Ribombo.
Knowing what to expect
When asked to summarise the biggest differences between Norwegian hospitals and Sefako Makgatho Health Sciences University/Dr George Mukhari Academic Hospital, she can do so in two words: communication and organisation.
"The biggest difference is, without doubt, communication. In Norway, the ambulance service, emergency communication centre (AMK) and the hospital all have close communications. Before the patient arrives at the hospital, the communication centre already knows all the information the ambulance personnel have, and they communicate this to the health personnel in A&E," she says.
She points out that this working method means that the health personnel at a hospital in Norway know exactly what to expect when they are waiting to receive a patient arriving by ambulance. This is not how things are done in South Africa.
"In Norway, the communications are fantastic. We are lacking this in South Africa. It is only with the most severe trauma cases that we have any kind of similar communications," she explains.
Patients often arrive at the hospital independently, are driven there by family, or come in with ambulances which were out on another assignment. In such cases, the personnel in A&E have no prior knowledge of the patient. This makes it difficult to help the patient efficiently.
"And this is where organisation is important. In Norway, a whole team made up of different disciplines is ready at the hospital when a patient arrives. Working together, they quickly decide where to send the patient for further treatment," explains Colisiwe Dephney Ribombo.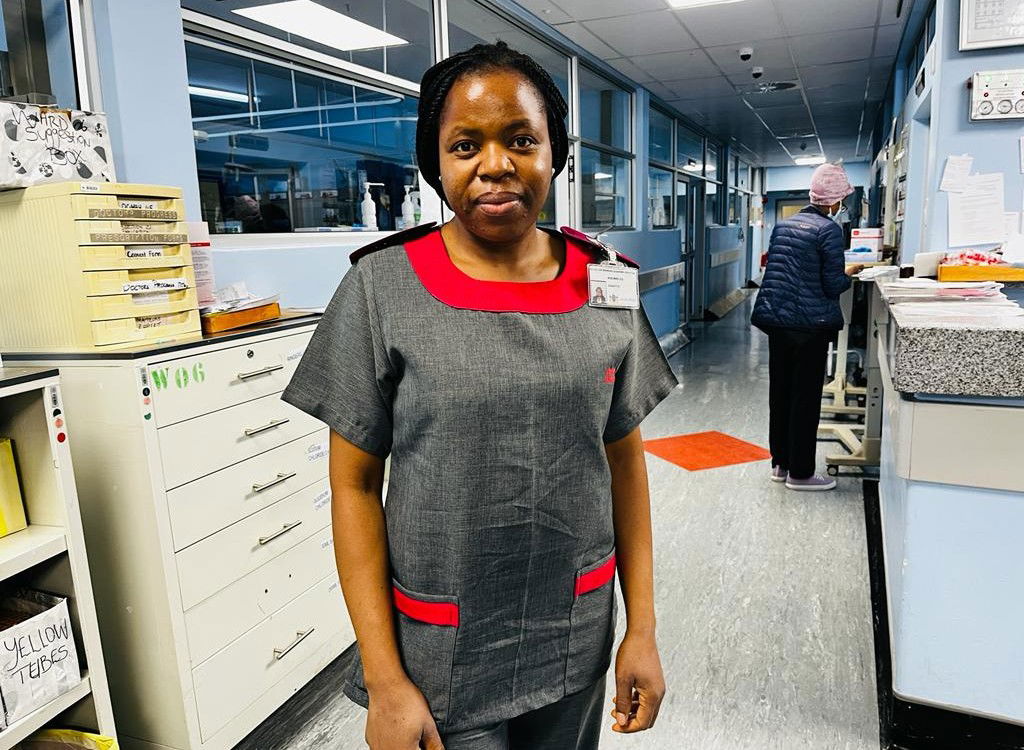 Trying to make changes in staffing and training
In South Africa, receiving patients at the hospital is much more chaotic for several reasons.
"Firstly, we have such huge numbers of patients, we are basically overloaded. And then there are fewer nurses and doctors at work. We often have only one doctor on shift, for example, and if he or she is busy attending to a seriously injured patient, the other patients have to wait. Sometimes, patients have to wait for as long as 24 hours before being referred to the correct ward," she says.
However, the staff at Sefako Makgatho Health Sciences University/Dr George Mukhari Academic Hospital are now trying to make changes to solve these challenges. And this is largely thanks to the experience gained by South African health personnel who have been on exchange at Haukeland University Hospital.
"We are now trying to assign one special doctor to examine the patients who are seriously injured when they arrive at the hospital," she explains.
They are also actively providing further education so the nurses can improve their knowledge.
"We are providing our nurses with more training so that they can identify life-threatening conditions and do something about them. Most often, we only have one doctor available. When he or she is busy, the condition of other patients may worsen without this being noticed. But having one more doctor available and by improving the nurses' knowledge, they will be able to monitor if the patients' conditions deteriorate and, if necessary, take action without having to wait for the doctor," says Colisiwe Dephney Ribombo.
Changes to doctors' rounds and practice simulations
The way the doctors' patient rounds are organised is also about to be changed, based on experience gained in Norway. "The doctors go on their rounds and discuss what further treatment the patient needs at the patient's bedside. But we are now working to change that.
"Such discussions can make the patient feel insecure. Watching doctors discuss your health does not make you feel confident. We want to have these discussions and make decisions beforehand, during a meeting prior to the rounds, so that then we can explain the results or decisions regarding further treatment to the patient during the doctors' rounds," she explains.
During their stay in Norway, the health personnel from South Africa and experienced the benefits of simulated training, and want to implement these trainings at their own hospital.
"When we carry out simulation, it only involves discussions. In Norway, they have practical simulation with real patients (actors), they carry out the tasks involved in the exercise and do things thoroughly. We have to copy this. When we carry out a drill, we have to make it as realistic as possible so that we can learn it both intellectually and physically. This will help us become much more familiar with the practical execution in a real situation," she says.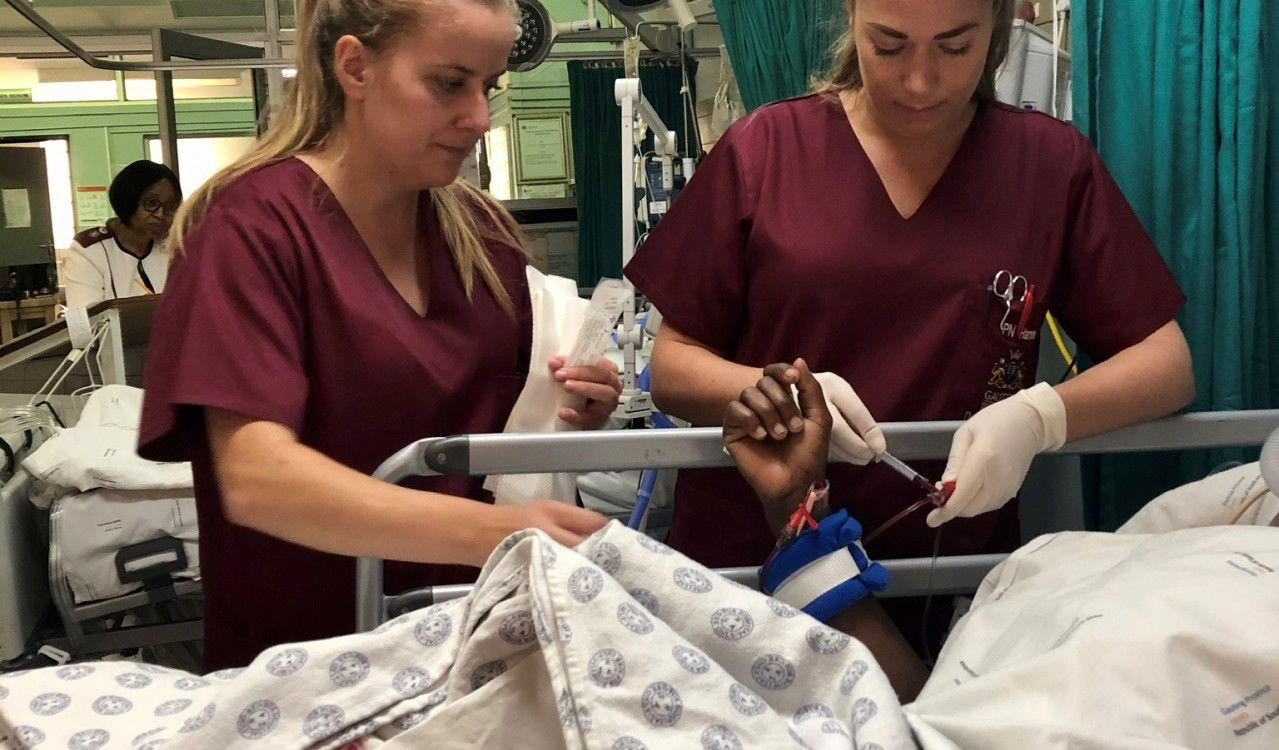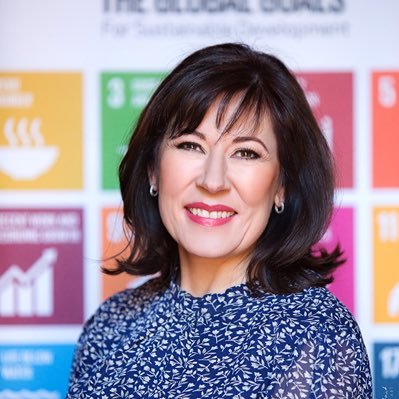 Confident about long-term cooperation
Project coordinator Carina Marais is full of praise for the cooperation and exchange with Haukeland University Hospital.
"It's so important, and great to see that knowledge is exchanged both ways. We learn a lot from Haukeland, and they learn a lot from us, especially when it comes to treating trauma and learning about diseases that are not so common in Norway," she says.
The cooperation started three years ago, but Carina Marais is confident that this is a cooperation that will last for a long time.
"It's important to make sure more of our employees gain this type of experience. They have to work with this day in day out. And even if they only bring a small part of what they have learnt back home with them, it's a small step in the right direction," she says.
A long-term perspective is important in creating change that will lead to more significant changes in the future.
"We have been able to make small changes particularly to our systems and organisation. With an increasing number of nurses travelling on exchange, this will most probably result in even more changes. We have to take this in baby steps, one at a time. That's what this is all about," concludes Carina Marais.