A first to Førde
13. June 2022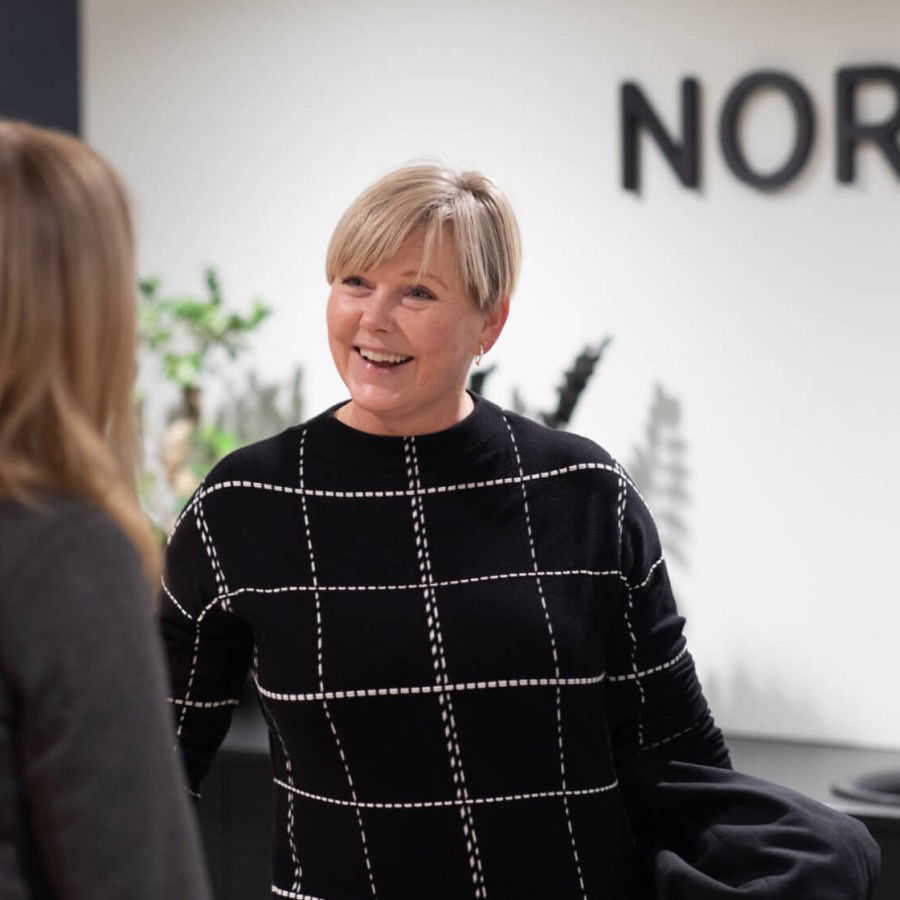 Her first official visit as Minister for Development could have been to Mozambique. But Anne Beathe Tvinnereim chose a visit to Norec and Førde instead.
– My choice of Førde was not a coincidence: Norec is under my responsibility, and I want to get to know you and the important work you do, said Mrs Anne Beathe Tvinnereim, who was appointed as Norway's Minister for Development two weeks ago, in a new Coalition government.
This is formed by the Labour party and the Centre Party, and Mrs. Tvinnereim represents the latter.
– It was great to hear how you moved from Oslo and established yourselves in Førde three years ago. Then you had to face the pandemic. Despite having a tough time, you have done well, Mrs Tvinnereim says.
– A tale of success I want to tell many
Since 2018, Norec has recruited 41 staff-members, with a high number of applicants for each vacant-position.
–  Getting competent candidates with international experience has been much easier than what we thought before we came to Førde, says Mr. Jan Olav Baarøy, Norec's Director General.
He is pleased with the Ministers choice of choosing Førde and Norec for her first official visit:
– It shows us that the Minister pays attention to us, and how we can work in the best possible way. That is truly inspiring, says Mr. Baarøy.
– It is great to see what Norec has achieved in terms of moving to another place in Norway, recruitment and adding a sector of competence to Western-Norway. For us in the Centre Party, it is important to show that sector-specific state-entities can grow and thrive outside of the Capital. This is a tale of success I want to tell many, says Mrs. Tvinnereim.
Give more awareness to Development Cooperation
When the new government was put together, Anne Beathe Tvinnereim was very keen on the position as Minister of Development. Her getting it was not a sure bet, so she put effort into making it possible:
– Becoming Minister for Development is both a personal and political goal for me. Development Cooperation deserves more awareness and attention, and I want to contribute to that. Norec's mandate is close to my heart; making sure that people meet across borders and exchange competencies, the Minister says.
Norway must be a predictable partner
Tvinnereim is clear when she talks about priorities in Norwegian Development Cooperation for the coming years:
– Our policies are not to be dominated by whims and spontaneous ideas, as this will make it difficult to reach the Sustainable Development Goals. Norway should be a predictable partner. We have six overall strategic priorities who will guide how we work:
• More integration between Development Cooperation and Climate
• Ensure food-security and fight hunger
• Fight inequality
• Ensure the rights of women and girls, as well as sexual and reproductive rights
• A strong and continued humanitarian commitment
• Norway should continue being a Champion for Global Health
An important tool
Mrs. Tvinnereim also underlines Norec as a tool in Norway's toolbox for development Cooperation.
– You are doing an important job through providing a professional framework for exchanges of professionals and volunteers. You also have new tasks when it comes to recruiting young Norwegians to international and multilateral organizations, an area we want to strengthen, the Minister says.
In 2020 when Covid 19 struck, all exchanges involving travel were put on hold. But Norec managed to tweak its services so that the partnerships involved could continue their cooperation digitally.
– I want to thank you for the job you are doing. You have managed to think outside of the box and adapt to changes. Since your office moved from Oslo, you have hardly had a "normal" working situation, but we hope that things will stabilize shortly, Anne Beathe Tvinnereim concludes.