Helping each other improve for almost 20 years
"Close to 20 years of exchanges have helped produce scores of talented coaches, team leaders, club administrators and grassroots volunteers in Norway," confirms Julie Karima Berg, coordinator for NIF.
The Norwegian Olympic and Paralympic Committee and Confederation of Sports (NIF) is one of the organisations with the longest history of exchanges with partners in the south via their exchange programme, which is financed by Norec (the Norwegian Agency for Exchange Cooperation).
"Our objectives with this cooperation have remained unchanged over the 20 years, but there have been changes in our partner countries," explains Julie Karima Berg.
NIF's vision is to help all members of society enjoy sports. Norec's exchanges allow sports volunteers to use sports as a tool to reach out to children and adolescents on a number of levels.
Creating links between Norway, Zambia and Malawi
NIF participates in both North-South exchanges and South-South exchanges, as well as so-called Triangular exchanges.
"Every year, 10 to 15 Norwegian participants leave Norway on exchange with an equal number of participants from our partner countries, Zambia and Malawi," says Julie Karima Berg.
All of the participants spend 10 months on exchange, starting in August.
"We believe that this is a key factor for success. Both the fact that the exchange is so long and that it follows a year of study, making it more practical to participate," she says.
The long tradition of exchanges has been productive in a number of ways. One of the benefits is that the exchanges have been highly instrumental in shaping NIF's international cooperation on development.
"The participants on exchange are closest to the work carried out at ground level, and they have strengthened our relationships with our partners. In total, the projects have achieved multiple objectives, and the work we have carried out, for example the promotion of safe sports and coach development, has also had an impact here in Norway," says Julie Karima Berg.
Strong relationships
When participants from Norway travel either to Zambia or Malawi on exchange, they live with host families, helping them to integrate quickly into local communities.
"I myself have been on exchange to Zambia in 2017 and 2018. I gained a new perspective on so many things, a deeper understanding of development and development work, and of the role played by sports in society," says Julie Karima Berg.
Moreover, NIF has recruited a number of former participants, who have helped different sections of the organisation with their experience from their time spent on exchange.
"The formal expertise that the participants obtain from the one-year study programme in sports, culture and development cooperation via the Norwegian School of Sports Sciences, and the practical experience gained from an exchange in the south, have produced talented coaches, team leaders, club administrators and volunteers at grassroots level in Norway," she adds.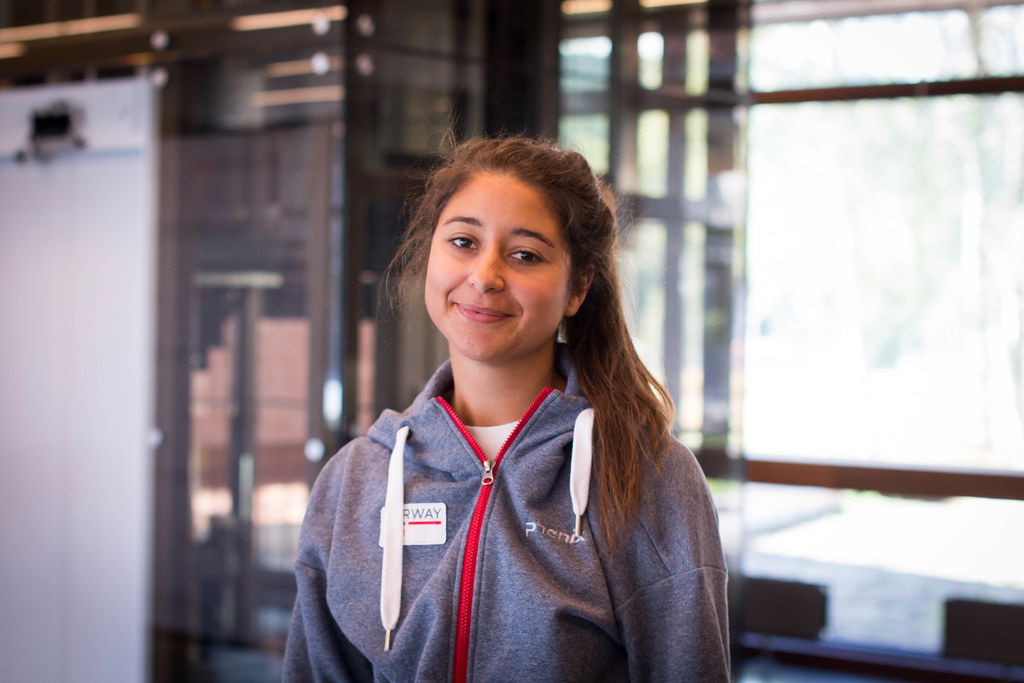 Has gained a wider understanding
In Linderud in Groruddalen, Oslo, Eirin Berg is on the sideline in the sports hall shouting instructions to the young girls' handball team she has been assistant coaching since the autumn of 2021.
Eirin has a lot of experience playing handball, but she has also been on a sports exchange with NIF, both as a participant in Lusaka, Zambia and as a team leader in Blantyre in Malawi. She has worked as a coach for the national handball team in Zambia as well as for school and club teams.
"I learned so much when I was on exchange that I can still use today. Exchanges help you better understand how everything is interconnected," she days.
In Norway, we have strict requirements about equipment, and that the players come to training sessions and matches, but this is not a viable approach in countries like Zambia.
"Girls in Zambia have other obligations. They have to look after their siblings, make dinner and put school first. All these things come before sports. There's no point in getting angry when they don't come to training," says Eirin Berg.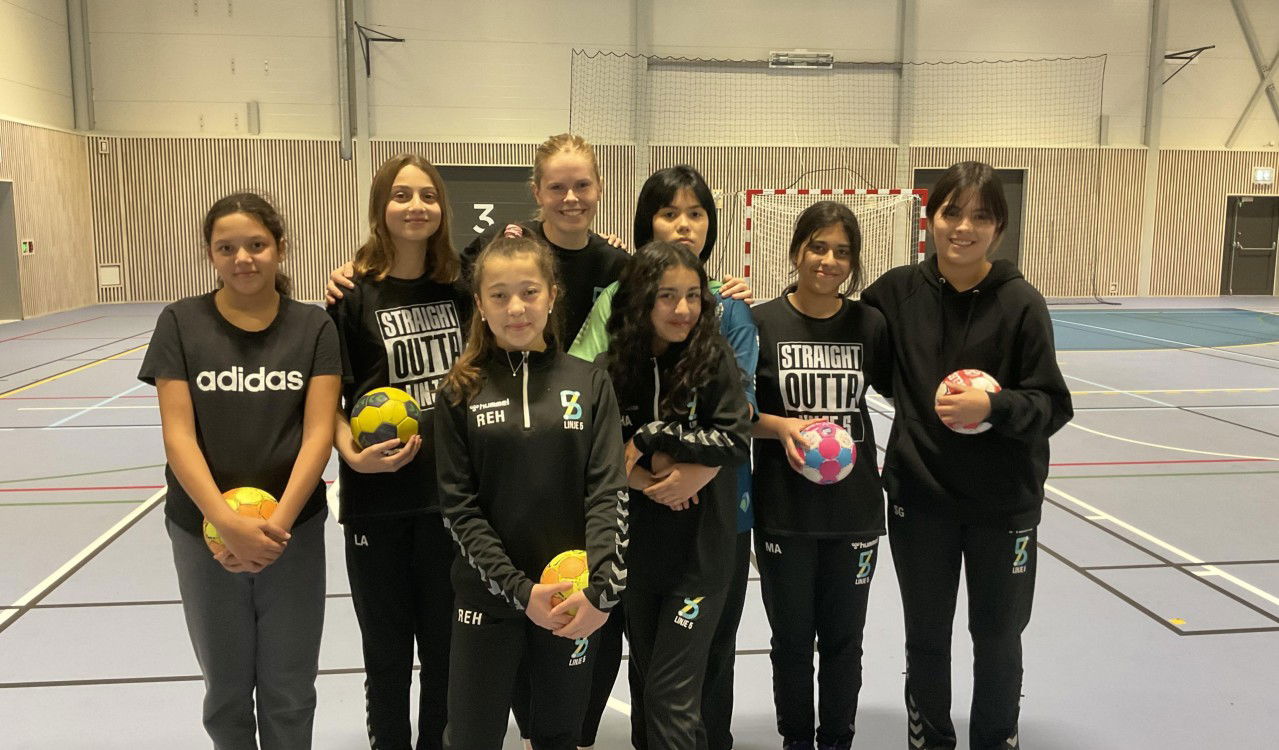 More flexible, less perfect
She goes on to point out that this is useful experience when working as a coach in Norway, particularly if you have players from different cultures on your team.
"It's important to understand that there are differences between cultures. And that comes more naturally when you've lived in another country and have gotten to know their culture," she explains.
Her time spent on exchange has also made her more adaptable as a coach, and helped her learn to take things more in stride.
"Before I went on exchange, I would plan everything down to the tiniest detail. But when you've had the experience of organising training sessions for a national team, and not one player is on time, the balls are in some other location or the pitch is full of hay, you learn to adapt.
I've learned that things don't have to be perfect. You get much more done by being more flexible," says Eirin Berg.
Norwegian coaches became more competent
Girls in Malawi and Zambia strengthened their capasity
Showing girls new opportunities via football
When Annet Sonko played football with the boys in the tiny village of Nyawa in Zambia, the girls from the village thought she was strange. But she perservered and, with time, encouraged the other girls to join her. The girls in the village have now formed their own girls' team, Nyawa United, and are hoping to take part in Norway Cup 2022.
"At the start, they would look at me as if I was strange when I played football with the boys. It was kind of unheard of for girls to do that," explains Sonka, who comes from Kampala in Uganda.
In 2015, she took part in an exchange project as a sports volunteer, spending 10 months in a small village in Zambia. This scheme is part of the exchange programme between The Norwegian Olympic and Paralympic Committee and Confederation of Sports (NIF) and organisations in Malawi and Zambia, funded by Norec.
The objective is to use sports as a gateway to encourage girls to take part in society, and gain access to education and equality.
During her exchange, Sonko taught gym classes at the school for grades 1 to 7, and was a football coach for kids in her time off.
Exchange opened her eyes to inequalities
It would be natural to assume that two African countries in relatively close proximity would not be so different, but the exchange was an eye-opener for Sonko.
"We are all African, but each country has different standards and cultures, especially when it comes to differences between rural and urban areas," says Sonko.
She is from Kampala, the capital of Uganda, a city with a population of close to 1.7 million.
"At home in Uganda, I suppose I was too close to the people there. I couldn't see the differences. But when I arrived in the small village in Zambia, I learned that we are different in many ways, even though we are similar in other ways," says Sonko.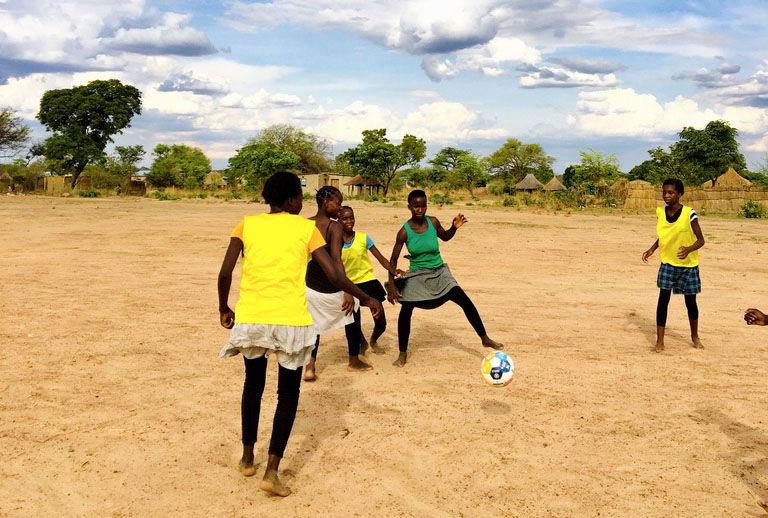 Showed videos of girls playing football
This was all the more evident for Sonko when she started playing football with the boys, something that was completely natural for her. The girls from the village stood on the sidelines and shook their heads.
"They were skeptical at the start, and did not believe that girls could play football. There were practical obstacles as well, for example that girls could not wear shorts. But I refused to give up. I showed them videos of girls who played football, and they gradually started to join me," explains Sonko.
After some time, so many started to show an interest that they had to start several football clubs for girls in grades 1 to 7.
On the football pitch, the girls could realise a sense of achievement, enjoy an activity that was not work, feel the benefits of using their bodies and take pleasure in the feeling of being part of a team.
"We also worked hard to involve children and adolescents who were disabled in activities. Everyone can take part in something," says Sonko.
She also took the initiative to form a club where women could learn to read and write.
"The club initially had 35 female members, but with time, men also wanted to join. If a community is to achieve development, women have to be involved. They have to be allowed but also want to contribute," says Sonko.
Can show skills on a different arena
As part of the exchange, she also worked as an assistant PE teacher at several schools. This was where she realised that teachers tended to eliminate PE as a subject, perhaps because they did not have enough time or knowledge of the subject.
"The teachers do not always have the time to hold PE classes. But as an exchange teacher, you are an extra resource. I worked at several schools during the exchange, and they have continued to give priority to PE because they have recognised the advantages of physical activity for the pupils," says Sonko.
She explains that for many pupils, PE is a subject where they can show other sides of their personalities, experience achievement in a new way and at the same time have fun.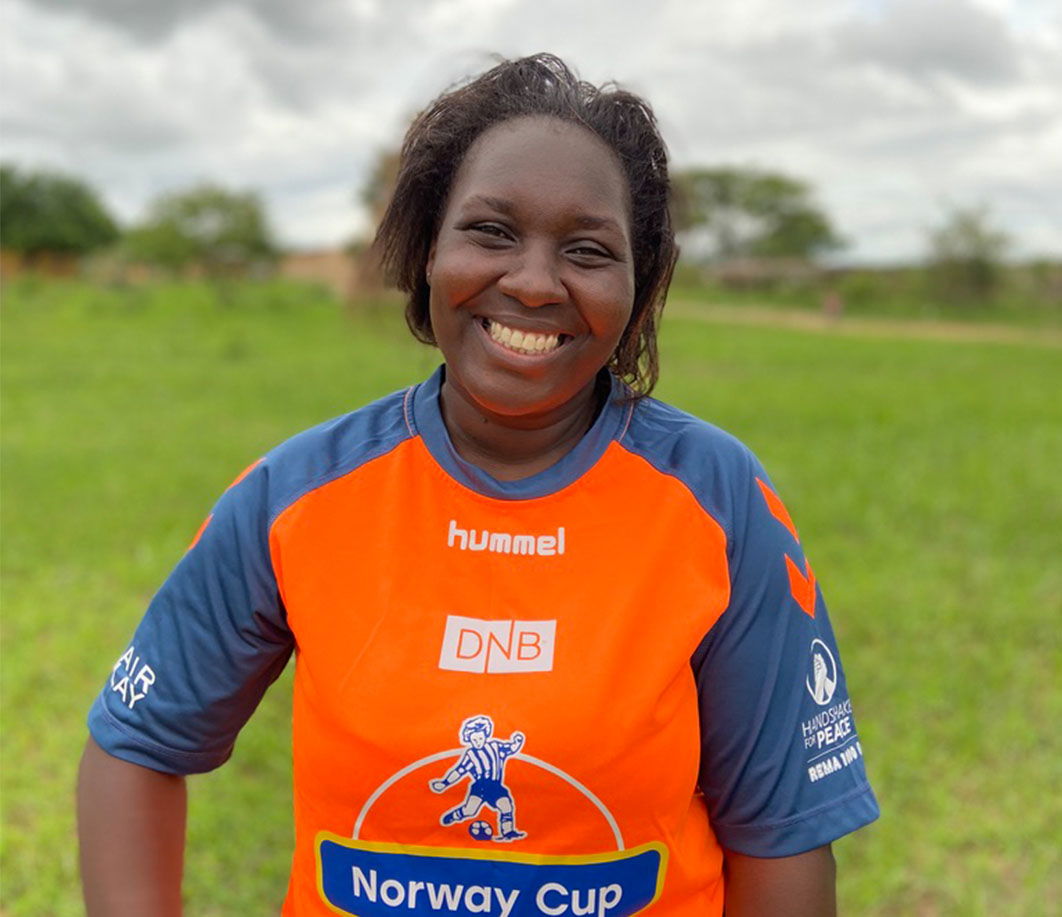 Aims to continue
After her exchange had come to an end, Sonko decided to continue with the same type of work, preferably in the province of Nyawa. She was employed as Youth Sports Exchange Programme coordinator by the voluntary organisation registered in Norway, Response Network. Their goal is to promote human rights and development by means of self-help groups in Zambian villages.
By recruiting Sonko, the organisation has benefited from the experience she gained during her 10-month stay in Zambia.
"When I returned to the village after being away, I did things differently than the first time. I had a clearer understanding of what girls experience. They are often married off at a very young age, and may perhaps become pregnant by the time they are 15. They don't go to school when they are menstruating, and many drop out of school at an early age for a number of reasons," says Sonko.
Now seeing an increase in the number of girls attending school
Zambia has one of the highest rates of child marriage in the world, mainly due to traditional practices and the fact that women and girls have low status in society.
Response Network believes in development that mobilises the resources inherent in local populations, both human resources and natural resources. They encourage individual villages to take the initiative to start self-help groups or sports clubs, providing help during establishment and follow-up.
Sonko confirms that there is now evidence of an increase in the number of girls attending school, and that these girls are confident that they can contribute to their local communities.
"The fact alone that they have met a volunteer who is a woman, who speaks their language fluently and encourages them to use their abilities, shows them that it is possible. If she can do it, then so can we," confirms Sonka.
Commitment required to create change
With Response Network, Sonko has taken part in campaigns focusing on what can be done to improve conditions so that girls have the same opportunities as boys.
"We visit schools and talk about menstruation, we teach management courses, and we show them how involvement in sports can prevent them from ending up in situations where they have to drop out of school. By taking part in sports, they learn about community participation, and that you have to get involved in your local community to make things happen," explains Sonko.
She is hugely committed to communicating what involvement in sports, and in particular, football, has meant for many aspects of her life.
"I had a dream that I could show the world that young girls from Zambia can play football, at the same time as showing the girls the outside world," says Sonko.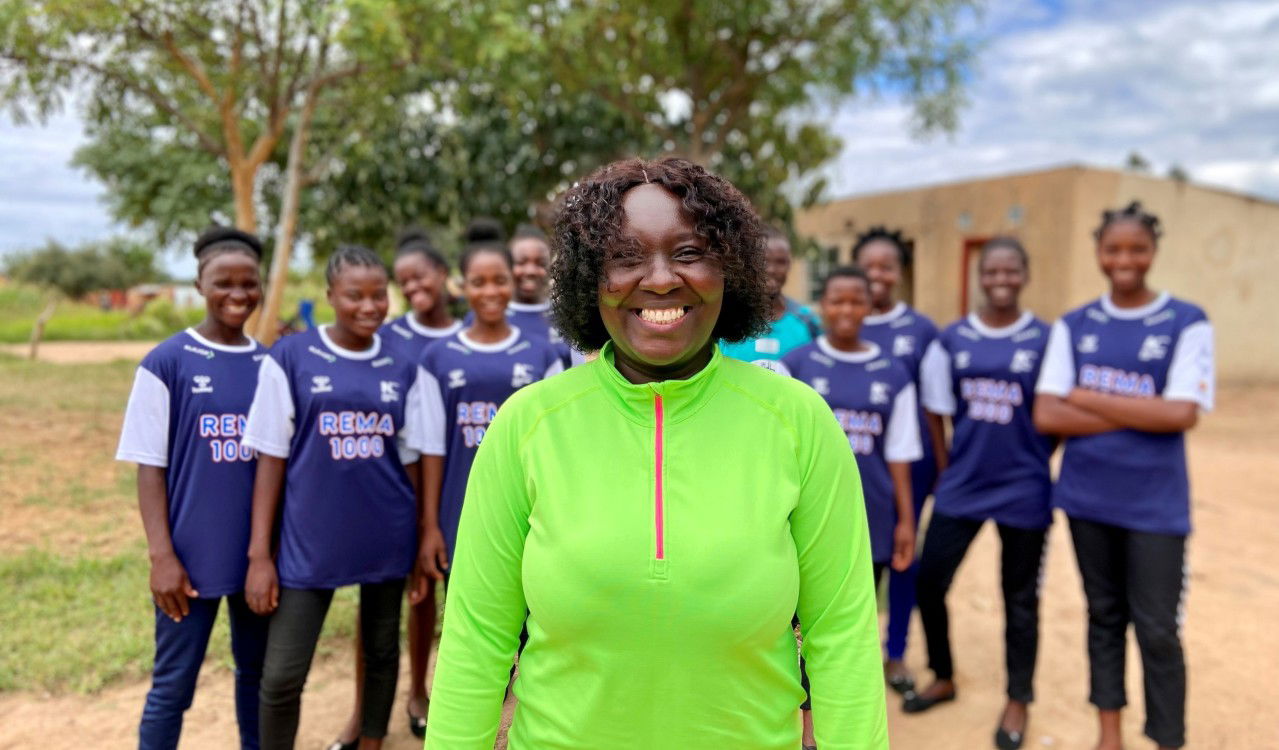 Set up a football club – aiming for Norway Cup
In 2019, Sonko and several friends in Response Network came up with the idea of sending a girls' team from Nyawa to Norway Cup, the world's largest football tournament for children and adolescents. This resulted in the establishment of the football club, Nyawa United, a football club that works to strengthen the rights of girls and women in Zambia via health, education and sport.
They worked hard to be able to send a girls' team to Norway Cup in 2020, but the tournament was unfortunately cancelled because of the COVID-19 pandemic.
"Our new goal is to send the girls' team to Norway Cup 2022," says Sonko with a smile.
In the meantime, Nyawa United are working and training hard. In December 2020, they organised a football cup at which four girls' teams took part.
"We have regular meetings with the girls and their parents during which we discuss human rights and how important it is for girls and women to get involved in all aspects of society. We combine our love for football with our main objective, to reinforce women and girls' rights and opportunities," says Sonko.