– Girl guides may be in lockdown, but girl guiding is definitely not
29. mars 2022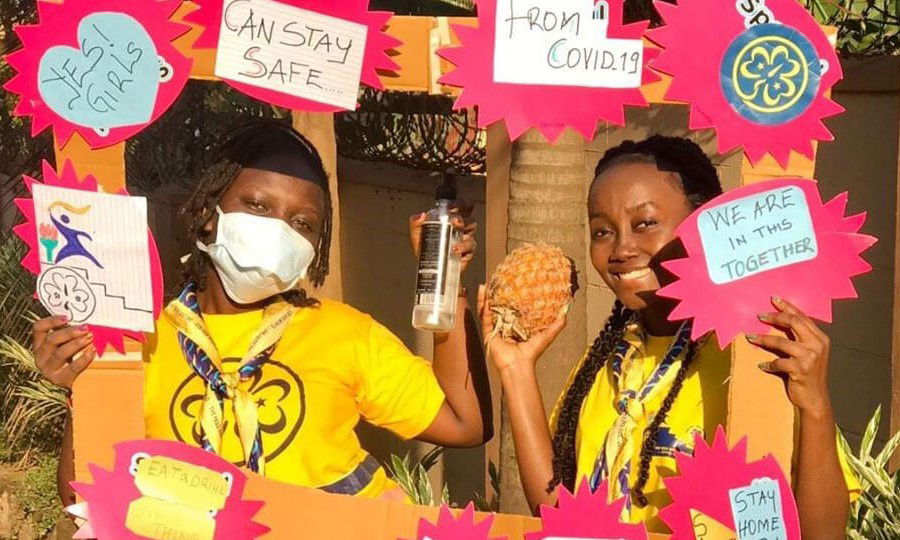 10 million girl guides in 150 countries are affected by lockdown restrictions. The YESS Girls participants therefore decided to develop a covid-19 survival strategy handbook for girl guides.
–  We thought it would not be a bad idea to be proactive and get used to the "new normal". We needed to do something, explains Rwandan Faustin Shimo Ikaze, currently on exchange in Uganda. She is a participant in the YESS Girls Movement, an exchange project organised through different member organisations of the World Association of Girl Guides and Scouts (WAGGGS).  
The 36-page handbook is translated to all four official languages of WAGGGS (English, Arabic, Spanish and French). It includes things like indoor guiding activities, useful tips on day to day operations, and ways of keeping sane and safe. You can read the whole handbook here.  
In the YESS Girls Movement, participants learn about major global and local issues, which they use to organise their own campaigns, projects, and mass communications. In 2020 they count 45 participants on exchange, in 11 different countries in Africa and Asia. Their objective is to enable women to become influential citizens who use their voices for the benefit of their local communities.  
Going 
D
igital
 and 
S
taying 
C
onnected
When the corona pandemic stopped their original plans, the YESS Girls participants decided to substitute their field activities with an increased online presence. Since March, they have increased their use of social media drastically. 
–  Every week, there is something new, something interesting and something engaging in all our social media accounts in all the 11 countries where we are currently hosted, says Faustin.  
According to her, the increase in online activity has been a great success: 
–  We didn't realise we could do so much online! We have ensured to stay connected with our fellow participants and host organisation staff for both social and work reasons. Last week we had an online candlelight camp for YESS Alumnae and current participants, where over 200 attended. 
27-days 
C
hallenge 
O
nline
One of the new activities they have done after the corona crisis is a 27-days challenge online: 
–  Every week had its own challenge and every Friday was an engagement day, where we would invite our followers on our social media platforms to share their point of view or take action. 
By doing the online challenge they could keep running activities and ensure that the targets of the project were met. The challenge focused on the YESS Girls' core initiatives, but they also used the 27-days period to raise awareness on covid-19.  
– 
Not even the sky is the limit for our girl guides
Despite the problems it has led to, the corona pandemic has brought new insights to the YESS Girls Movement. 
–  We have learnt that there is quite a lot we can do even when we think we are limited either in resources or when our whole plan seems to be totally changed, Faustine explains. 
–  Not even the sky is the limit for our girl guides. This period shows that there is always a light at the end of the tunnel!